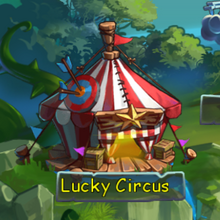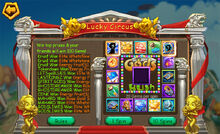 Use Circus Tix here to grant you spins (1x or 10x) to win great prizes! Additionally you may also use 20 gems to spin.
1. You'll get three Circus Tix the first time you buy gems each day!
2. Buy at least 320 gems each day to win a Circus Tix.
3. Spend at least 488 gems at any spring each day to win a Circus Tix.
4. After level 20, you'll win a Circus Tix each time you level up!
Winning top prizes (Hero Card/Shard Card) will grant 100 Gems to every user in the winner's friend list.
NB: Wisdom Potion has been removed in place of 3 Ares shards as a prize.
Mystery hero shards have been replaced with 100 Artemis shards.
Community content is available under
CC-BY-SA
unless otherwise noted.