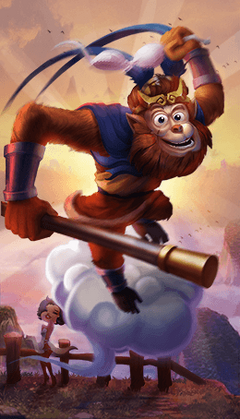 Creates clones to confuse and attack enemies
Stat Growth
Edit
| Stars | STR | INT | AGI |
| --- | --- | --- | --- |
| ★★ | 3.6 | 2.4 | 4.5 |
| ★★★ | 4.8 | 3.2 | 6.0 |
| ★★★★ | 6.0 | 4.0 | 7.5 |
| ★★★★★ | 7.2 | 5.8 | 9.0 |
Chimp Buddy Edit
Creates a clone that rushes into battle with you 
Effect: Grey copy acts like the Monkey King without any special skills.
Notes: If this skill is used while the copy is still there it brings the clone back to full health.
Increases DMG by 4 per level
Triple Chimps Edit
Creates two clones that help out in battle
Effect: Like Chimp Buddy but gives 2 more copies.
Notes:
Fiery Gaze Edit
Flames from his eyes burn an enemy and slow it down. Also creates a clone behind target. 
Effect: Clone is the same as Chimp Buddy except for location.
Notes: This clone can decoy the target to facing it rather than the rest of the party so that some area effect skills are away from them. This is mainly of use against certain Trials in the Guild section of the game.
Increases DMG by 10 per level
Lively Chimps Edit
Willpower increases the HP of the Monkey King and his clones (Passive)
Effect: HP Boost
Range: Self & Monkey King Clones 
Notes:
Starts with 20% and each level increases their health by 0.5% (approximately)
White → Green
Edit
Green → Green + 1
Edit
Green + 1 → Blue
Edit
Blue → Blue + 1
Edit
Blue + 1 → Blue + 2
Edit
Blue + 2 → Purple
Edit
Purple → Purple + 1
Edit
Purple + 1 → Purple + 2
Edit
Purple + 2 → Purple + 3
Edit
Purple + 3 → Purple + 4
Edit
Purple + 4 → Orange
Edit
Strategy
Edit
Hero Shard Locations
Edit
"I'll show you my powers"
Monkey King is based on the Chinese/Buddhist story/myth/legend of "Journey to the West". He is most likely released to celebrate Chinese New Year, just as Snowman and Mrs. Claws were made to celebrate Christmas. Monkey King has many names and title, but the most common one is Sun Wu Kong. Making copies of himself is also one of his many skills in the actual story. Sun Wu Kong is also used as an inspiration in many games etc. One notable one is Goku of Dragon Ball.
Community content is available under
CC-BY-SA
unless otherwise noted.