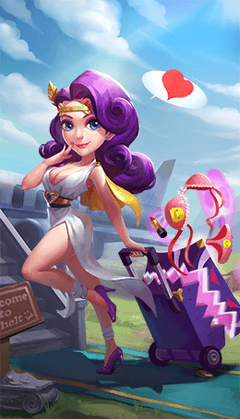 Mid row and Disabler. Has powerful area spells
 Stat Growth
Edit
| Stars | STR | INT | AGI |
| --- | --- | --- | --- |
| ★★★ | 4.6 | 5.6 | 2.4 |
| ★★★★ | 5.8 | 7.0 | 3.0 |
| ★★★★★ | 6.9 | 8.4 | 3.6 |
Evil Gifts Edit
Slows all enemies within range and eventually turns them to stone 
=Each level increases chance to stun; less of chance with higher target level
Twin Flames Edit
Attacks and deals damage to the target twice
=15.4 times level is added as base damage
Thorny Plight Edit
Ensnares a target with thorny vines dealing continuous damage
= 212.52 initial dmg + 10.12 per level; 800 + 1 per level DOT dmg
Lava Burst Edit
Magma bursts up and deals damage to all enemies in its path
= 288.64 dmg + 7.04 per level
White → Green
Edit
Green → Green + 1
Edit
Green + 1 → Blue
Edit
Blue → Blue + 1
Edit
Blue + 1 → Blue + 2
Edit
Blue + 2 → Purple
Edit
Purple → Purple + 1
Edit
Purple + 1 → Purple + 2
Edit
Purple + 2 → Purple + 3
Edit
Purple + 3 → Purple + 4
Edit
Purple + 4 → Orange
Edit
Orange → Orange + 1
Edit
Orange + 1 → Orange + 2
Edit
Orange + 2
Edit
Strategy
Edit
Pandora is Useful against Any Disabler because of her spells that don`t need to use her Ultimate skill, The Evil Gifts. She`s Like Hecate`s Substitute, She Can Deal Huge Amount of Magic Damage. She is also Useful when Cassandra (Purple), Prometheus (Purple) and etc.
Hero Shard Locations
Edit
(On selection) - "How can I be of service?"
(Ultimate activation) - "Open!"
(On evolution) - "Hurray!"
(On summon) - "My box? Whatever do you want it for?"
Community content is available under
CC-BY-SA
unless otherwise noted.